Solen Lesou
ë

f Irish flutes

Solen Lesouef Irish flutes in the keys of D C Bb and Eb in African Blackwood & Mopane.

 4 keyed D flute in Mopane 
5 keyed Bb flute also in Mopane

5 keyed C Flute African Left Handed Blackwood

6 keyed D Flute Left Handed Boxwood

8 Keyed D Flute in Mopane with large rings and Boehm style foot joint

D & Eb Flutes Keyless 950€
D & Eb Flutes 6 Keys 2750€
 All Keys and Rings are Sterling Silver
(300€ per Key)
C & Bb Flutes Keyless 1100€
C & Bb Flutes 6 Keys 2900€
 All Keys and Rings are Sterling Silver
(300€ per Key)
Mopane & African Blackwood Same Price
Silver Lip Plate +350€
Large Rings +150€
Mother of Pearl Head Cap +30€
Screw Adjustment Bushing +80€
Current waiting time as of September 2021 is 10 months for a  keyless flute and 3 1/2 years for keyed flutes
Due to my waiting list becoming stressfully long for me… I am only taking orders for D flutes at the moment
Hopefully the wait should come down like that…Thanks for your patience
Commonly Asked Questions
Do Blackwood and Mopane Irish flutes sound the same?
There is a subtle différence but new flutists might not hear it. I find that Mopane Irish flutes have a rounder/reedier tone but Blackwood is a little more direct.
Will Large Rings make a difference to the sound of my Irish flute?
I believe large rings do have a positive effect on the sound of my Irish flutes and I think that it has something to do with the extra mass. The large rings also help to strengthen the mortices.
What about Ivory embouchures?
Well it's subtle but i believe the sound of Mammoth Ivory is more focused, however a wooden embouchure has a warmer tone.
Do my Irish Flutes come with a case?
The case is an extra and they are made individually for each flute. It takes time to make the cases so if you require one be sure to order it  with your flute.
What is the model of my D Flute?
Solen Lesouef Irish flutes are styled on a large bore Rudall and Rose…with quite a lot of tweaking.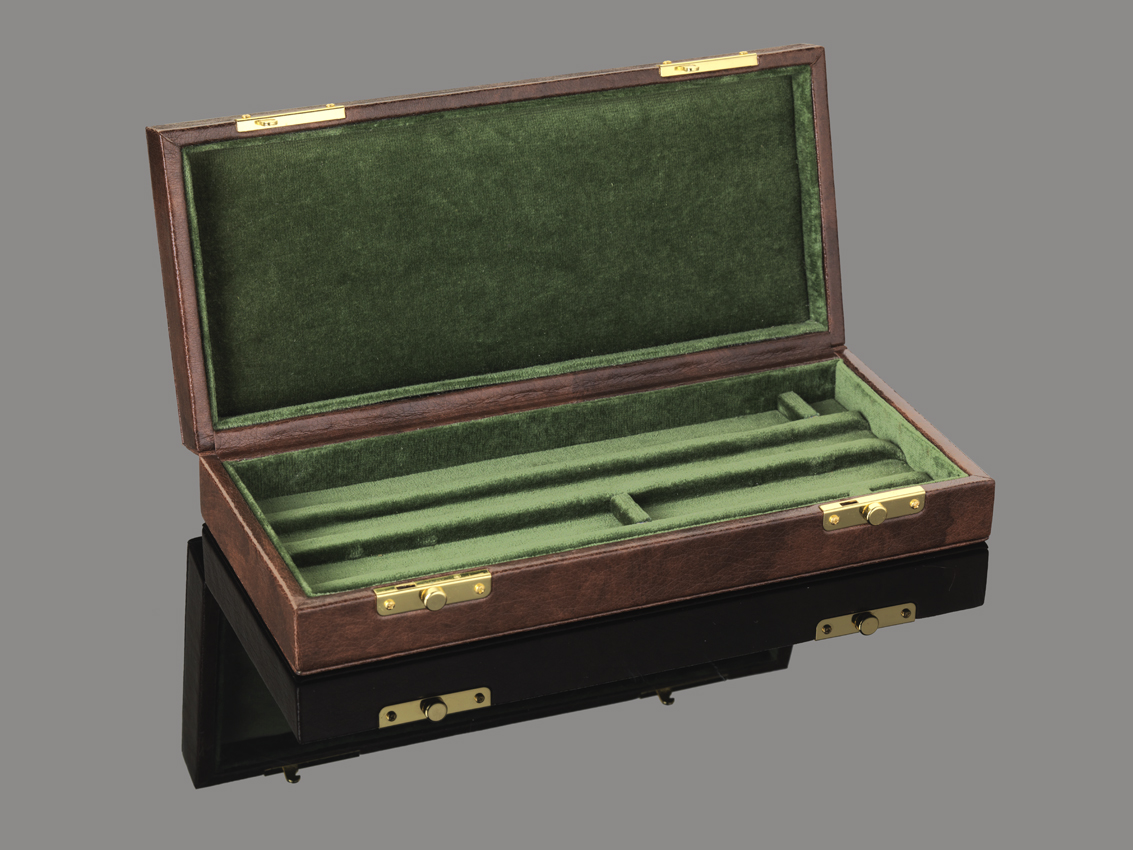 Basic Flute Case 90€
These cases are made locally from heavy duty cardboard with a washable imitation leather covering.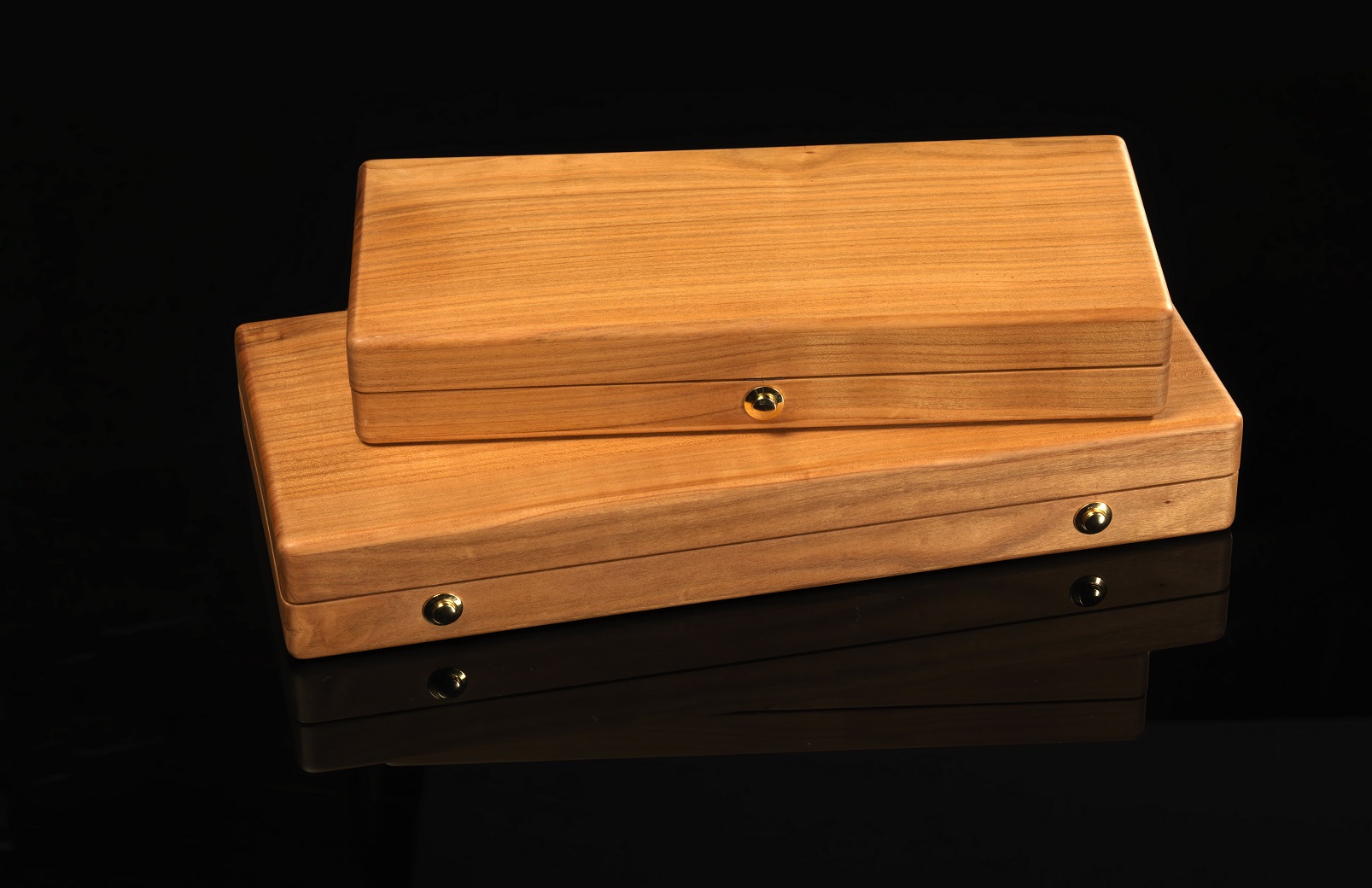 Cherry Wood Case 200€
These cases are made from wild cherry wood but sometimes other woods are used depending on what is available. They are finished with oil and beeswax.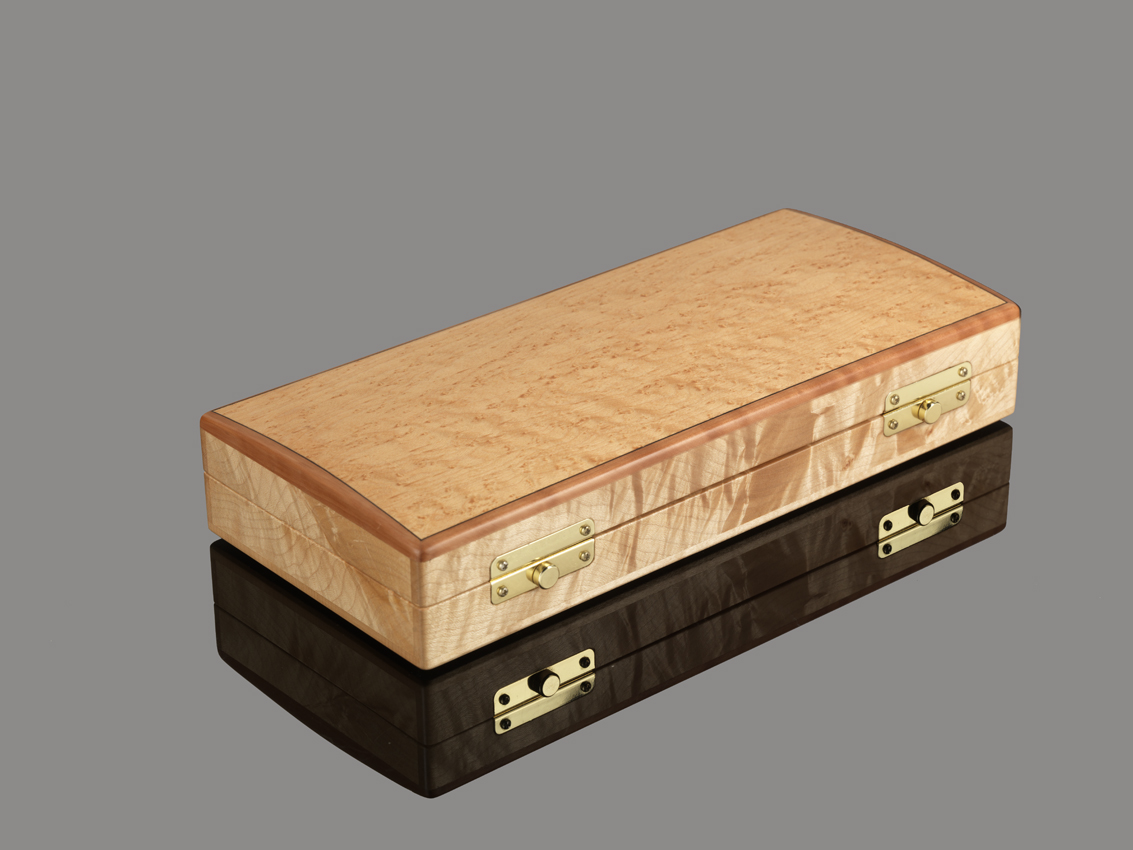 Deluxe Flamed Maple Case 400€
Deluxe Irish flute cases are made from flamed maple with a rounded birds-eye maple veneered lid, and this one has Acacia bindings. Woods will vary but you will recieve something unique and beautiful.
AFRICAN BLACKWOOD
Dalbergia Melanoxylon – Density 1.3-1.4 g/cm3
African Blackwood is a member of the Rosewood family and is not an Ebony. It is denser than Ebony and also contains a sort of oily tar which stabilises your Irish flute against humidity.  Blackwood is the standard wood used for making modern Irish flutes because of this stability and the nature of its powerful tone. It has the rare qualities of a high density wood with small closed pores and good stability.
Since 2017 African Blackwood is a CITES appendix II endangered species, and it is subject to a control when it crosses international borders. Within the European Union there is no control.
All my wood has CITES certification so if you order an Irish flute from outside the EU I will ask CITES for a certificate to post with the flute – no extra charge.
MOPANE
Colophospermum Mopane – Density 1.2 -1.36 g/cm3
Mopane is a bright red wood with dark veins. The Orange-Red colour darkens with oiling and oxidation over time and after a couple of years a well oiled flute looks very similar to the colour of a Pernambuco violin bow.
It ages well and does not split or warp more than Blackwood, although it needs oiling a little more often, mostly at the start.
Although it is slightly less dense than African Blackwood it takes a very good polish and is becoming a popular wood for Irish flutes. 
Mopane produces a rich and direct sound.
BOXWOOD
Buxus Sempervirens – Density 0.9 -1.0 g/cm3
Boxwood is the densest European wood and although it can't compete with Blackwood for its density, it is extremely smooth. Irish flutes made from Boxwood have a less direct sound than Blackwood Irish flutes but they are rich in harmonics.
It is a beautiful but unstable wood that acts like a hygrometer even when the wood is very old. It helps to stabilise a flute when it is played constantly but Boxwood keyed flutes can be high maintenance.
With changes in the weather the blocks of Boxwood Irish flutes can open and close, so the keys will often stick or wobble and leak.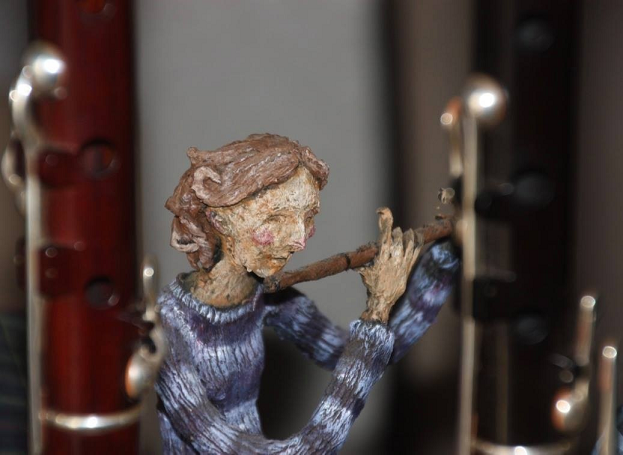 Solen Lesouef – Irish Flute Maker
I have been making Irish flutes for 15 years and I share my workshop in Brittany with my husband Daniel Ross –  Fiddle maker.
Where did I learn to make Irish flutes?
In 2001 I studied woodwind instrument making and repair in Newark England for 3 years where I learned to make a clarinet from A to Z. I was lucky enough to share a student house with two guys from County Clare,  and one played the fiddle and the other played Irish flute and pipes, so by day I learned how to use a lathe and in the evenings I picked up a few tunes…
I started playing whistle at school when I was 8 and I've played the Irish Flute since I was 12. These days I play regularly in our local sessions and there are plenty of good ones in Brittany.
What do I do when I'm not making Irish flutes?
When i'm not playing Irish flute I enjoy rock climbing. With Dan I organise the Festival du Violon de Plouneour Menez.  
Solen Lesouef – Irish Flutes
Atelier de Lutherie
Kerhor
29410 – Plouneour Menez – FRANCE
0033 (0) 785 481 994